Monthly Archives:
April 2012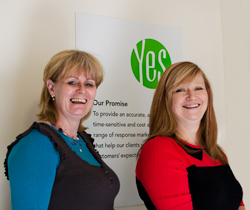 We'd like to say a big welcome to our two new members of staff here at Yes Response – Ginny and Emma.
Ginny (pictured on the left) has joined us as a telemarketing administrator and will be undertaking follow-up outbound calls for one of our client's prospective business-to-business customers. This will include the verification of contact details and assessing each prospect's level of interest in the products and their purchasing cycles.
Emma joins the team as an Administrator and will be handling and processing telephone orders on behalf of our clients, completing the daily postal and courier documentation for the high volume of items we despatch and inputting data for customer satisfaction programmes.