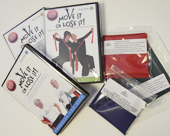 Our client Move it or Lose it provides a range of exercise DVDs that have been specifically designed for older or less mobile people who want to continue to stay fit and active at home. Yes Response facilitates the distribution of these exercise routine DVDs with orders received via phone, online orders or by mail order.
The campaign has become incredibly successful recently, following some editorial coverage in a consumer magazine. This has seen telephone orders for the DVDs suddenly increase from approximately 200 to 300 per month to over 1,200 orders in a period of 2 weeks.
With no prior warning of this sudden increase, Yes Response has responded immediately, scaling-up resource on this campaign to handle the additional telephone orders and continue to despatch all orders on the same day that they are received, exceeding the customers' expectations.