Monthly Archives:
August 2012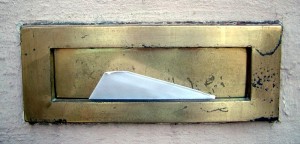 Since the end of 2011, Royal Mail has been trialling a new scheme to reduce the frustrations of customers receiving parcels and other items that are too big to go through the letterbox. The 'Delivery to Neighbour' scheme has been trialled across several areas of the country and, as the name suggests, means that postal carriers will leave large items with a neighbour if you are not there when they call. This eliminates the need to arrange for a redelivery or take a trip to your local sorting office.
Royal Mail reports that following the trial, the scheme was well received with 92% of people reporting that they were satisfied with having their items left with a neighbour rather than returned to the sorting office. Plans are now in place to launch the 'Delivery to Neighbour' scheme nationwide from the end of September, subject to regulatory approval.
Of course, Special Delivery items and international post requiring signatures will continue to be returned to the sorting office, and a compensation scheme will still be in place for items that go missing.
As with all initiatives of this kind, the true success of the scheme will soon be seen following the reactions of the public after launch. At Yes Response, we feel that the scheme is likely to be successful, but only if it is implemented correctly on the ground, with the postal carriers using good judgement in where items are left. We are also hoping that this will be the first of many initiatives aimed at improving the delivery of parcels for customers living increasingly busy lives which mean that staying in awaiting deliveries is impractical.
We had a rather unexpected delivery here at Yes Response recently when one of our client contacts from JCB arrived with an Olympic Torch in hand! Dave Allen carried the torch through Gnosall on 30th May 2012, and very kindly brought it in for a visit at Yes Response.
Dave has always been a keen athlete and has represented Staffordshire for 5 consecutive years in cross country and is a 2010 British Masters club team cross country silver medalist. He has also been actively involved in athlectics during his 23 years working at JCB, taking part in the 5 mile 'fun run' for the last 23 years, forming part of the JCB team that did the '3 peaks' run and completing a London to Paris cycle ride with a number of JCB colleagues. Dave has also been helping his fellow JCB employees to get into running, organising an after-work 'learn to run' group to pass on his experience and encouragement to those neew to running.
The Yes Response team were very excited to see the Olympic Torch and we got some great pictures of members of the team holding it!

We'd like to welcome our newest client on board – AGA Rangemaster. We have just completed our first mailing project with AGA Rangemaster and are looking forward to many additional projects during this ongoing relationship.